Breast Reduction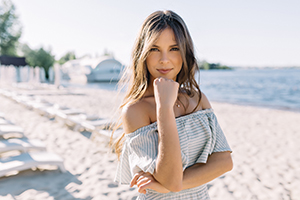 Women with overly large breasts can suffer from a wide range of cosmetic and medical concerns, which can make their daily lives more difficult. From the excessive size to the significant weight on their frame, enlarged breasts can lead to back pain, neck pain, skin rashes, skeletal deformities, and breathing problems. Bra straps may leave grooves in the shoulders from excess weight. Unusually large breasts can also make a woman or a teenage girl feel extremely self-conscious, and many women may alter the type of clothing they wear to hide large breasts. Large breasts may even prevent a woman from participating in sports or exercise activity.
Fortunately, through breast reduction surgery at Richmond Aesthetic Surgery, many women have found relief from their symptoms and achieved a breast size more proportionate to the rest of their body. If you're considering breast reduction, this page will give you a basic understanding of the procedure. Our board-certified plastic surgeon, Dr. Neil J. Zemmel, will answer all of your questions in detail at your initial consultation.
What Is Breast Reduction?
Breast reduction (reduction mammaplasty) is a surgical procedure designed to remove excess tissue from the breasts, including fat, glandular tissue, and skin. This not only decreases breast size but also reduces weight and improves firmness. During breast reduction surgery, the nipple and areola are typically raised to a more youthful position on the chest, and areola size can also be decreased.
The goal of breast reduction surgery is to give women smaller, better-shaped breasts in proportion with the rest of their bodies. By doing so, the symptoms associated with overly large breasts can be relieved.
For a more in-depth look at breast reduction surgery in Richmond, please visit our specialty website dedicated to the procedure: breastreductionvirginia.com.
Am I a Candidate for Breast Reduction?
Breast reduction surgery can be performed for physical relief and cosmetic improvement. Most women who have the surgery are troubled by very large, sagging breasts that restrict their activities and cause them physical discomfort. Many women have tried pain medicines such as Aleve or Motrin to relieve the symptoms without effect. Other women desire smaller breasts to improve the shape of their bodies.
Breast reduction usually is not performed until a woman's breasts are fully developed. However, in certain rare cases it can be done at an earlier age, such as during a woman's teenage years, if their breasts are extremely large and are causing serious physical or mental discomfort. The best candidates are those who are mature enough to fully understand the procedure and have realistic expectations about the results.
Breast reduction is not typically recommended for women who intend to breastfeed. You should be physically healthy, psychologically stable, and realistic in your expectations. Your age is not a major consideration. However, older patients may have diminished skin elasticity and may not achieve the same results as a younger patient with tighter skin.
Safety is Dr. Zemmel's number one concern. All patients will undergo a rigorous pre-operative physical exam to determine whether or not they are fit for breast surgery.
What Does the Breast Reduction Consultation Involve?
During your consultation, please discuss your expectations honestly with Dr. Zemmel. Each woman has a different view of their ideally shaped breast. Dr. Zemmel will listen very closely to your opinions and will do his best to understand your desires. He will examine and measure your breasts, taking into account:
Your starting breast size
The distance from your collar bone to your nipples
Your height and weight
Your chest wall size
The shape of your breastbone
The elasticity of your skin
The size and shape of your nipples and areola
You should also discuss where the nipple and areola will be positioned; they'll be moved higher during the procedure, and should be approximately even with the crease beneath your breasts.
Dr. Zemmel will photograph your breasts for reference during surgery and afterwards. The photographs may also be needed in the approval process of your insurance coverage.
Other variables will also be discussed that may affect the procedure, such as your age, any prior history of breast disease, any family history of breast disease, and your overall health. Dr. Zemmel may also require you to obtain a recent mammogram.
If Dr. Zemmel recommends breast reduction surgery based on your unique needs and goals, he will describe the procedure in detail, explaining its risks and limitations and making sure you understand the scarring that will result.
He will also explain the anesthesia he will use, the facility where the surgery will be performed, and the projected costs. (Some insurance companies will pay for breast reduction if it's medically necessary; however, they may require that a certain amount of breast tissue be removed. Check your policy, and have your surgeon write a "predetermination letter" if required.)
How Should I Prepare for Breast Reduction Surgery?
Safety is Dr. Zemmel's number one concern. Every patient undergoes a thorough pre-operative examination to make sure they are fit for surgery. Dr. Zemmel will give you specific instructions on how to prepare for surgery, including guidelines on eating and drinking, smoking, and taking or avoiding certain vitamins and medications.
What Are the Different Types of Breast Reduction?
Typically, breast reduction is performed by using one of two different techniques, depending on how much breast tissue and skin needs removal. Liposuction may also be incorporated depending on the amount of excess fat needing removed. As excess tissue is removed during surgery, the breast is lifted to a more desirable position and shape.
Vertical (Lollipop) Breast Reduction
If a moderate amount of skin and tissue require removal then a vertical breast reduction pattern may be used. This technique uses an incision that goes around the nipple/areola and then straight down to the breast fold. It takes the shape of a "lollipop."
Wise Pattern (Anchor) Breast Reduction
If a large amount of tissue needs removal, Dr. Zemmel will likely perform a wise pattern breast reduction. This technique includes the incision around the nipple/areola and the vertical incision, but also uses a horizontal incision hidden in the breast fold. This pattern takes the shape of an "anchor."
What Does the Breast Reduction Procedure Entail?
Breast reduction surgery is performed by Dr. Zemmel at either St. Francis Hospital in Midlothian, Virginia or St. Mary's Hospital in Richmond. By taking advantage of fully accredited hospital settings, he is able to utilize the extensive resources available and further minimize any risk of complications.
To begin your breast reduction, you will be put under general anesthesia by board-certified anesthesiologists and board-certified nurse anesthetists. You can expect to be asleep through the entire operation, making you unaware of the surgery and allowing you to remain completely pain free.
As mentioned above, Dr. Zemmel typically uses one of two techniques for breast reduction: a vertical or wise pattern approach. Depending on the method, incisions will be made around the areola extending downward, and possibly also along the inframammary crease. This will ultimately depend upon how much of a reduction is needed.
During surgery, Dr. Zemmel removes excess glandular tissue, fat, and skin, and moves the nipple and areola into their new position. He then brings the skin from both sides of the breast down and around the nipple/areola, shaping the new contour of the breast. Dr. Zemmel may use liposuction to recontour the area where the breast meets the armpit area. This provides a smoother transition between the breast and chest wall.
All incisions are closed with fine absorbable sutures, which Dr. Zemmel has found results in the best scar appearance possible.
What Are the Risks of Breast Reduction Surgery?
Breast reduction is not a simple operation, but it's considered safe when performed by a qualified, board-certified plastic surgeon like Dr. Zemmel. He has an incredibly low rate of complications, and most patients are extremely happy with their results. With any surgery, however, there is always a possibility of complications, including bleeding, infection, or reaction to the anesthesia. In addition, breast reduction holds the following risks:
Inability to Breastfeed: Future breastfeeding may not be possible, since the surgery removes many of the milk ducts leading to the nipples. This is why it is important for you to communicate with Dr. Zemmel prior to surgery if you hope to breastfeed in the future.
Sensation Loss: Some patients may experience a permanent loss of feeling in their nipples or breasts. Rarely, the nipple and areola may lose their blood supply and the tissue will die. The nipple and areola can be reconstructed, but this requires an additional procedure.
Asymmetrical Results: Despite an excellent operation, breast reduction surgery can leave you with slightly mismatched breasts or unevenly positioned nipples.
Poor Healing: Women who smoke are at a higher risk for all complications. Poor healing and wider scars are also more common in smokers. Dr. Zemmel may choose not to perform the surgery if you are a heavy smoker.
You can reduce your risks by closely following Dr. Zemmel's advice both before and after surgery. He will go over these issues in great detail during your consultation. Remember, most surgeries go fine without any problems. Complications occur only in a small minority of cases.
What Is the Breast Reduction Healing Process Like?
Following your breast reduction procedure, you will need to wear a surgical bra over your dressings. It is normal to experience some degree of pain in the first few days after surgery, but most discomfort typically fades within the first week. Dr. Zemmel can prescribe pain medication to improve your comfort during this time.
The day after your procedure, your bandages will be removed, and Dr. Zemmel will check the incisions to make sure everything is healing well. Two days after surgery you will be able to bathe. You will continue wearing the surgical bra for one to two weeks until the swelling and bruising subside. Dr. Zemmel will then advise you to wear a soft sports bra for two to three weeks until the wound obtains full strength. After this time, you should be able to wear a regular bra, if desired.
What Can I Expect After Breast Reduction Surgery?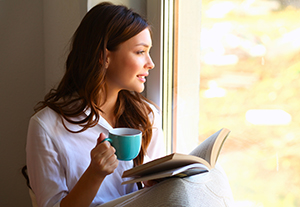 Within the first day or two after your breast reduction, you will be encouraged to be up and moving around. Your breasts may still feel sore for a couple weeks as your body continues to heal. Although it is beneficial to perform light activity, such as walking, stretching, and swimming, you should avoid lifting heavy weights or over-exerting yourself for at least three to four weeks. You may also be recommended to avoid sexual intimacy for a week or longer, as arousal can lead to your incisions swelling.
Most patients feel ready to return to office-based jobs and social activities after about 10 days. Dr. Zemmel will provide you with post-operative care instructions to help you know when it is safe to resume your normal activities.
What Will My Breast Reduction Scars Look Like?
Breast reduction surgery does leave noticeable, permanent scars. The original size and shape of your breast will determine the type of incision lines you will receive. Regardless of the type of operation, however, Dr. Zemmel makes sure to place incisions in inconspicuous areas, allowing scars to be covered by your bra or bikini bathing suit. Remember, it is impossible to remove excess skin without leaving a scar. For several months, your scars may be uneven and red, but they should gradually become less obvious as they fade to thinner, lighter-colored lines.
When Will I See My Final Breast Reduction Results?
Most of the swelling and bruising following breast reduction should fade within the first few weeks of recovery. After this point, you should start to see the results from your procedure. That said, it can take as many as six months before your final breast reduction results appear, and their shape may continue to change over time in response to hormones, weight fluctuations, and pregnancy.
Of all plastic surgery procedures Dr. Zemmel performs, the results from breast reduction typically offer the quickest change in a patient's body image. Most patients feel relief of their physical discomfort of large breasts almost immediately. Many of Dr. Zemmel's patients report improvement in neck and back pain as soon as the day after surgery.
Over time, your body should look more balanced, and you may find your clothes fit much better. Keep in mind, however, that recovery can take several months, and your breasts will continue to improve as your body heals.
How Much Does Breast Reduction Cost?
Breast reduction surgery costs approximately $10,000 and $12,000 at Richmond Aesthetic Surgery, which is an estimate that includes the surgeon's fee, surgical facility costs, anesthesia fees, and post-operative garments. The total cost of the procedure will vary for each individual, based on the details of their surgical plan. For those interested in dividing their total cost into smaller, monthly payments, our team works with multiple third-party lending companies that offer cosmetic surgery financing. In addition, depending on your insurance provider, you may be eligible for partial or full coverage.
Is Breast Reduction Covered by Insurance?
Most health insurance companies will cover the cost of a breast reduction if certain criteria are met. Patients must have symptoms of pain and reduced physical activity. Insurance companies also require surgeons to remove a minimum amount of tissue, usually 500 grams. Our team can help you determine your coverage, and Dr. Zemmel can write a predetermination letter if needed.
Schedule Your Breast Reduction Consultation
To learn more about breast reduction surgery, please contact Richmond Aesthetic Surgery to schedule your personal consultation with Dr. Zemmel.