Breast Reconstruction
The diagnosis of breast cancer can be an extraordinarily traumatic event for any woman. The treatment of breast cancer centers on removing the tumor with a combination of radiation, chemotherapy, and surgery. In recent years surgeons have developed newer procedures that aim to conserve as much of the original breast as possible. Many women may choose to have a lumpectomy and radiation, while others may choose to undergo total mastectomy. For some women a total mastectomy may be the only option.
There are a number of reconstructive options depending on the severity, size, and location of the breast defect. For women who have undergone a lumpectomy a local flap reconstruction may be needed to repair smaller contour defects. For those who undergo mastectomy, breast reconstruction surgery can help them avoid the devastating psychological impact mastectomy can have on one's self–image and self–confidence.
As recently as 30 years ago, the options for mastectomy reconstruction were severely limited and the cosmetic results were unsatisfying for patients. The results of those older procedures were unnatural. Innovations in plastic surgery made since that time have enabled us to offer a full range of reconstructive options for patients with contour deformities due to lumpectomy and single and double mastectomy. Procedures for breast reconstruction available today can be done at the same time as the lumpectomy or mastectomy, or after waiting a few months to several years.
What Is Breast Reconstruction? 
Breast reconstruction after cancer is designed to rebuild the shape and overall look of the breast. This can often be performed at the same time as cancer surgery, such as a lumpectomy or mastectomy, or it may be delayed. The most beneficial technique will depend on each patient's unique needs and preferences. Board-certified plastic surgeon Neil J. Zemmel, MD takes pride in helping women not only restore a more natural-looking breast appearance, but help them regain a sense of wholeness and femininity. 
While many women choose to undergo breast reconstruction, it may not be right for everyone. Despite whether reconstruction is being considered, Dr. Zemmel encourages patients to learn about their options so they can make an informed decision about their health.
What Are the Different Breast Reconstruction Types?
In general, there are three broad categories of reconstruction. Each type of reconstruction has its own advantages and disadvantages. They are:
Autologous tissue breast reconstruction
Prosthetic breast reconstruction
Autologous tissue with prosthetic breast reconstruction
Autologous Tissue Breast Reconstruction
Autologous tissue breast reconstruction involves reconstructing the breast with the patient's own tissues. This technique is often considered the "gold standard" of breast reconstruction, and it has undergone many advancements over the years. Microvascular surgery, such as muscle-sparing techniques and DIEP perforator flaps, have allowed for adequate transfers of a patient's tissue while minimizing trauma to the donor area. Donor tissues are generally taken from the abdomen, the back, or the buttock, with the abdomen (TRAM flap) being the most common.
The primary advantage of using one's own tissue to reconstruct the breast is that this tissue will heal and grow with the patient. There is no future maintenance for an autologous tissue reconstruction as there may be with implants. Tissue reconstructions feel and look more natural and aesthetic than other reconstructive options. For women undergoing a one-sided mastectomy, symmetry is generally better when compared to implants based reconstructions. 
The main disadvantage of autologous breast reconstruction is that tissue must be transplanted from an otherwise healthy part of the body. This creates a donor site that must be closed. This can result in scarring and occasional loss of strength at the donor site. These problems, including hernias and abdominal wall weakness, may be seen with traditional abdominal TRAM flap autologous reconstructions. 
Furthermore, autologous tissue breast reconstructions have longer operative times and hospital stays when compared to implant-based reconstructions. Some women are not optimal candidates for autologous breast reconstruction. Factors such as body shape, previous surgeries, smoking history, and co–existing medical conditions may preclude breast reconstruction with autologous techniques, such as the TRAM flap.
Prosthetic (Implant) Breast Reconstruction
Prosthetic breast reconstruction utilizes breast implants to help restore a patient's breast shape and size. Unlike a breast augmentation, there is little remaining tissue to cover the implant and a new pocket for the implant must be made. To create this pocket, a tissue expander will be inserted before the implant is placed. This breast reconstruction technique helps the patient avoid losing donor site tissue and associated scarring.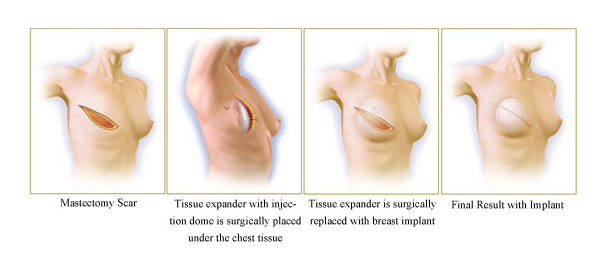 Prosthetic breast reconstruction is typically a faster procedure and the hospital stay is generally shorter. However, prosthetic breast reconstruction is a multi-stage procedure performed over 6 to 12 months. A minimum of 2 stages are required. The permanent implant will likely require maintenance in the future.
Autologous and Prosthetic Breast Reconstruction
Another breast reconstruction option is to combine the autologous tissue and prosthetic techniques. This method entails transferring a graft of the patient's tissue from one area, while also placing a breast implant. Utilizing this technique offers the pros and cons of both the autologous and prosthetic options. Since tissue expanders are generally not needed with this combination procedure, the process is typically better tolerated, making it a great option for many patients compared to the standard prosthetic technique. 
Is Breast Reconstruction Covered by Insurance?
Breast reconstruction is guaranteed to be covered by health insurance companies, according to the Federal Woman's Health and Cancer Right Acts of 1998. Insurance providers are also required to cover the cost of a matching procedure for the other side to ensure symmetrical results. Since navigating insurance benefits and filing claims can often feel complicated and be time-consuming, our team at Richmond Aesthetic Surgery is happy to file claims on behalf of our breast reconstruction patients, looking into the amount of coverage offered by a patient's insurance provider. We accept most major insurance providers.
Learn more about breast reconstruction insurance coverage.
Dr. Zemmel has extensive experience with both implant-based and autologous tissue breast reconstruction. Dr. Zemmel has performed countless breast reconstruction surgeries at his Richmond, Virginia practice. This experience, combined with his broad background in general reconstructive surgery, makes him qualified to offer mastectomy patients an extensive range of options.
If you are interested in breast reconstruction, contact our Richmond, Virginia practice to find out which breast reconstruction technique is right for you.